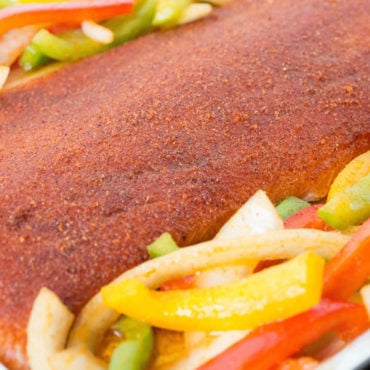 Ingredients
2

lb Salmon Fillet

2 Tbsp

Olive Oil, divided

1 tsp

Salt

1 tsp

Cumin

1 tsp

Paprika Powder

1 tsp

Onion Powder

1/2 tsp

Chili Powder

1/2 tsp

Red Cayenne Pepper

1 tsp

Black Pepper

3

Bell Peppers (assorted colors), sliced

1

Onion, sliced
Instructions
Preheat the oven to 425°.
Place salmon fillet on a baking sheet. Massage all over with 1 tablespoon of the olive oil.
Mix all the seasonings together in a small bowl. When they are well combined, rub the salmon all over with the mixture, reserving some for the vegetables.
Place the peppers and onion in a small bowl and drizzle with olive oil. Sprinkle some of the remaining seasoning on them and toss to coat. Lay them on the baking sheet around the salmon.
Cook the salmon and veggies pan for 25-45 minutes, until it flakes easily with a fork.
Cut into portion size pieces and serve immediately.