Jalapeno Popper Cheese Ball | Cook & Hook
[ad_1]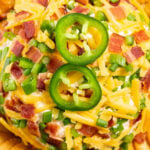 Ingredients
10 Slices of Bacon, cooked & chopped
1/4 Cup Green Onions, sliced
3 Fresh Jalapenos
2 8 oz Cream Cheese Blocks (softened)
1/4 Cup Sour Cream
2 Cups Cheddar Cheese, freshly shredded (divided)
3/4 tsp Garlic Powder
1/2 tsp Onion Powder
Pinch of Salt
Instructions
Cook the bacon until it is crispy. Place on a paper towel lined plate or on a cooling rack over a pan to drain and cool. Once cool, chop the bacon. Place half in an airtight container and refrigerate until later. Set the other half aside for now.
Slice the green onions. Dice the jalapenos – be sure to remove the seeds unless you like it extra spicy. Place half of each together in an airtight container and store in the fridge.
Use a hand mixer or a stand mixer to beat the cream cheese and sour cream together with the salt and garlic and onion powder until smooth.
Add the jalapenos, bacon, and green onion we set aside as well as 1.5 cups of the cheddar cheese. Mix on low until just combined.
Lay down some plastic wrap on your counter and spoon in the cheese ball mixture. Wrap it up, carefully forming it into a ball shape. Store in the refrigerator for at least 6 hours, preferably overnight.
Remove the cheese ball from your refrigerator about 20 minutes before serving time.  Place the reserved bacon, cheddar cheese, and green onions in a single layer on a plate or cutting board. Unwrap the cheese ball and gently roll it into the toppings until it is covered.
Serve with a butter or cheese knife and crackers.
[ad_2]

Source link
---